PHSSR Translational Toolbox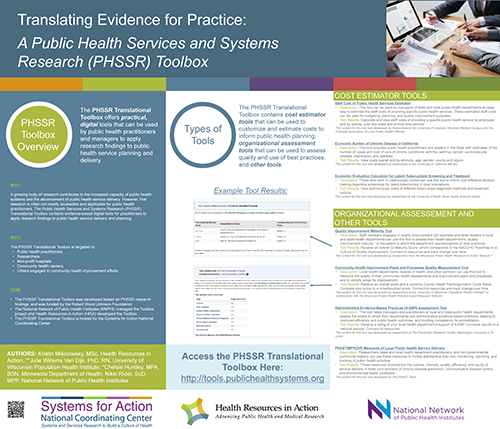 The Public Health Services and Systems Research (PHSSR) Translational Toolbox contains digital tools that are easy to use and offer immediate results to help guide quality improvement initiatives, assess the quality of community health improvement planning processes, and estimate the cost of delivering specific public health services, among others. These digital tools are readily accessible to public health practitioners, managers, policymakers, and researchers.
This PHSSR Translational Toolbox was developed with funding from the Robert Wood Johnson Foundation. Tools have in some cases been developed by PHSSR researchers; others have been developed by Health Resources in Action.
If you have any questions about the PHSSR Translational Toolbox, please e-mail: info@publichealthsystem.org.
Informational Video About the Toolbox